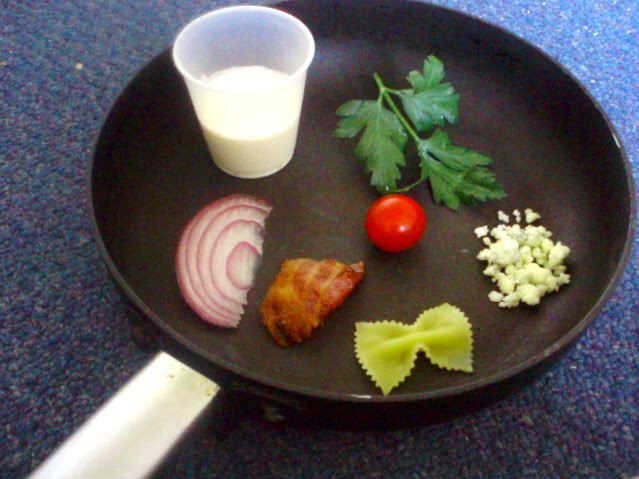 "The ordinary arts we practice every day at home
are of more importance to the soul
than their simplicity might suggest"
~ Thomas More
I love to celebrate the little things.
Like when the weekend rolls in.
When
BOTH
kids are napping at the same time!
When I finally get to talk to an old friend after playing several rounds of phone tag.
When the Pittsburgh Steelers start the season off
right
! **hehe**
Like when a recipe is
so
easy, yet
so
luxurious,
that it tastes as though I've
been slaving all day long in the kitchen, laboring to exhaustion,
pouring every ounce of love, sweat and tears to prepare such a delicacy
spent much more time on it than I actually did.
oh how i cherish the
simple pleasures...
NOTE TO SELF: splash a little water on the face to give the appearance of sweaty exertion, may increase brownie points.
I simply boil the pasta in salted water according to the directions on the back of the box, typically 8-10 minutes until al dente, and drain well. I prefer to use farfalle (bow tie pasta, as pictured), but a penne would certainly be a lovely choice, or anything along those lines. Meanwhile, I put 8 oz. of gorgonzola crumbles in a medium sauce pan with 1 cup of heavy cream, stirring frequently, and adding some fresh ground pepper to taste. Once melted, remove from heat - and voila! Your sauce is done. Add your pasta to that incredibly delicious creamy goodness, toss, and plate - pretty easy so far, yes? Top with sliced steak* or chopped bacon - garnish with some fresh diced tomatoes, purple onion, and italian flat leaf parsley** - that's it!
*
I prefer to serve this dish with sliced steak, cooked medium rare to medium, such as a nice Rib Eye or NY Strip, using appx 2-3 oz. on top of each plate, however, I didn't have any on hand, so I opted for the bacon this time around
** as you may have noticed, I like a lot of parsley :)
Sweet Bellas, it rarely gets much simpler than that...
so go on, take out the "good china"
turn on some lovely music
put some fresh cut flowers in a vase
serve some farfalle with gorgonzola cream sauce