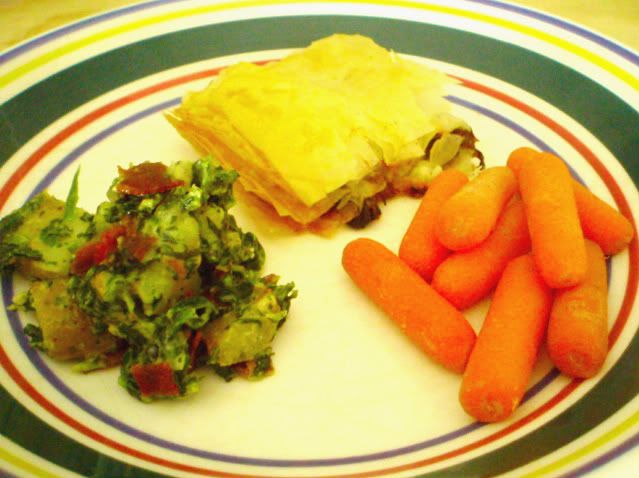 "Winter is the time for comfort, for good food and warmth,
for the touch of a friendly hand and for a talk beside the fire:
it is the time for home."
~Edith Sitwell
P90X is rockin' my world.
Spring cleaning has begun.
But dare I say that I'm still not ready for Spring??
I simply need more time...
More time for boots and cute scarves and hats!
Maybe another snowfall or two?
A few more bowls of

hot comforting soup??
A smidgen more snuggling on the couch with blankets and a good book while the chill still hangs in the air??
This past week I had been rummaging through the pantry and freezer
trying to use up ingredients before I made my monthly pilgrimage to Trader Joe's.
Was hoping I could dream up something we've never had before with limited stock.
And I must say, some of the best meals are born that way.
Behold, I give you phyllo pastry stuffed with stripped beef,
baby bella mushroom & gorgonzola
served with a side of creamy spinach & bacon fingerling potatoes
and some steamed carrots
drizzling with honey and a dash of nutmeg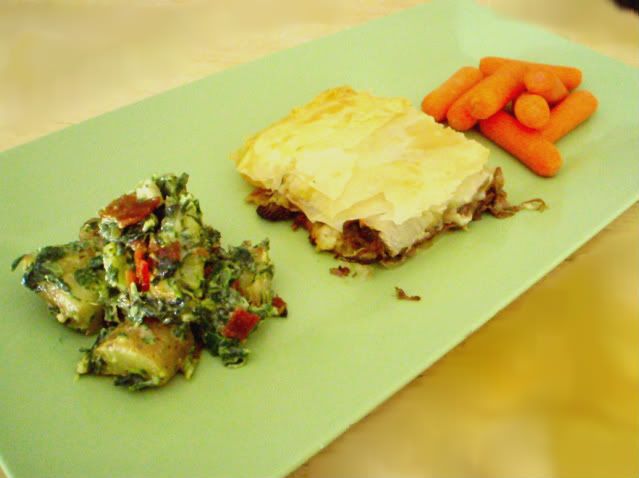 The strip beef was frozen and left over from a delicious roast I made two weeks prior, one that had
been simmering in a crock pot
with Argentinian Malbec, Worcestershire sauce, garlic, cracked pepper,
potatoes, onions, carrots and mushrooms.
After that wonderful meal, I shredded the roast, saved some
for stripped beef tacos the next day, and froze the rest.
Imagine my delight when I discovered it hiding in the back of my freezer!
This meal will definitely warm your belly while it's still nippy outside,
but don't worry ya'll, by March I'll be ripe 'n' ready
for fresh blossoms and new beginnings :)
"The color of springtime is in the flowers,
the color of winter is in the imagination."
~Terri Guillemets
Phyllo Stuffed Stripped Beef with Baby Bellas & Gorgonzola
Here's what you need:
12 sheets of phyllo dough
10 oz. of cooked shredded roast
3-4 oz. gorgonzola cheese, crumbled
3-4 oz. of baby bella mushrooms, sliced
tbsp of butter, tbsp of olive oil
to brush phyllo dough i melted appx 6 tbsp of butter in a bowl
and made an egg wash with 1 egg and some water in another bowl
Here's how you make it:
preheat oven to 350 degrees
sautee sliced baby bella mushrooms with garlic, butter & olive oil
add cooked meat, stir, cook for 1 minute
spray a 9 x 13 pan with cooking spray
lay 2 sheets of phyllo dough down, brush butter over the entire sheet to moisten
add 2 more sheets of phyllo, brush more butter to cover entirely, then add 2 more sheets of phyllo
brush with more butter to cover sheets entirely
add meat & mushroom filling in to cover sheets entirely
cover evenly with gorgonzola cheese crumbles
then add your last 6 sheets of phyllo in sets of 2, followed by brushing butter over entire sheets
when final layers of phyllo are on and butter is brushed evenly, then add one layer of egg wash over entire sheet
preslice before putting into oven for easy slices
place uncovered in oven and bake for 30 minutes
Creamy Spinach & Bacon Fingerling Potatoes
Here's what you need:
12 oz. of fingerling potatoes, sliced long, and then in half
1/2 yellow onion (I used a maui sweet onion)
1 clove of garlic, minced
6 oz. bacon, cooked & chopped
6 oz. frozen spinach (I didn't have any fresh spinach on hand, but of course would be perfect)
4 oz. cream cheese, softened & cubed
1/2 cup sharp cheddar, shredded
sea salt & freshly cracked pepper to taste
Here's how you make it:
cook garlic in olive oil, about 20 seconds
add onions, cook down about 3-5 minutes
add potatoes, stir well, add salt & pepper
cover, cook until potatoes are soft and can be pierced with a fork
add cream cheese, incorporate well
add cheddar, incoporate well
add bacon, remove from heat
*note to self: wait to photograph steamed carrots until AFTER they have been appropriately drizzled with honey and dashed with nutmeg. That is all.
Keep Shining Sweet Bellas!