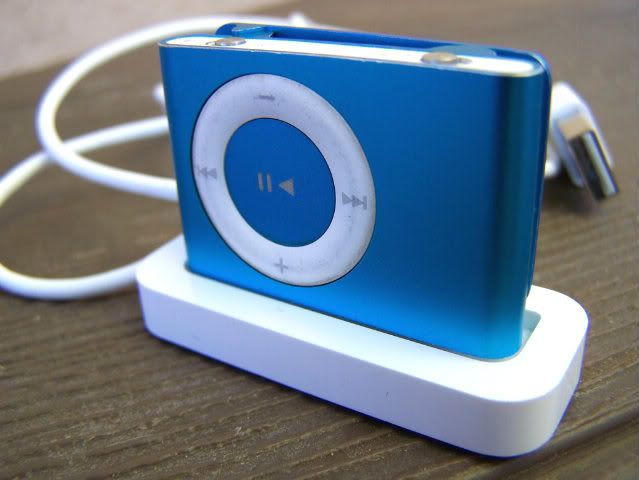 "Music is the shorthand of emotion."
~Leo Tolstoy
You've heard the song "Video Killed the Radio Star,"
appropriately the very first video that aired on MTV in 1981.
Well, if that's true, than I think it's fair to say
that iPod killed the record store.
Now, I'll be the first to admit that I'm smitten over the iPod.
I mean really...a portable jukebox of my favorite music??
I love the thrill of customizing tasty playlists
for different moods and occasions...
Makes my "inner DJ" swoon I tell ya.
I'll never forget the first day I caught a glimpse of it's glimmer.
It was a sunny day in 2001,
sitting down at my mother's kitchen table,
when my sister Stacy showed me the latest technological indulgence
that she scored off of EBAY...
a shiny metallic lime green Mini iPod.
My eyes grew as big as millstones
while visions of sugar plums danced in my head.
I gazed upon her thumb going
round and round and round the dial,
showing off her library of songs and playlists.
Just the thought of replacing my bulky "discman"
brought a Kool-Aid grin to my face.
But there was a time in the not too distant past
when I could spend a whole afternoon at the record store with my friends.
Charley's records and tapes, or Krazy Kat's Vinyl's, even Hastings.
A parade of long haired rocker guys
and laced up pant rocker girls
combed up and down the aisles.
Racks of posters and concert t-shirts
neatly displayed in the back of the store.
Big cushiony earphones awaited you at a station to sample the most recent new release.
Hours would go by, though it felt like minutes.
"Stray Cat Strut" by the Stray Cats.
And my first vinyl full length album.
"Eye of the Tiger" by Survivor.
Do remember how cool the album art used to be???
It would fold out and sometimes there was even art on the inside sleeve.
What treasures they were.
I have further flashbacks of my tape recorder,
which I not only used to hide behind plants
to record my parents private conversations,
*what a little spy I was*
Soon my collection began to grow,
thus came the need for a wooden cassette holder
to display them all for my perusal.
Of course, then came the illustrious CD.
How cutting edge was that?
Do you remember your first 45/vinyl LP/8-track/cassette/cd????
as much as I enjoy scrolling the I-Tunes online store
for the latest and greatest new music,
I sure do miss those days at the record store...
Here's a sample of some of the tunes I'm diggin on lately:
a little something for everyone :o)
(p.s. if it doesn't show you the video with the first click because of restricting the view from certain sites, just click "watch on youtube" and it will take you right to it in a separate window.....check it out!)
for those of you who like something fresh:
for those of you who like to chill:
for those of you who like to have some fun:
for those of you who like to roooock your face off:
for those of you who are contemplative:
for those of you who like to
step out of the comfort zone: