"Grandmas hold our tiny hands for just a little while, but our hearts forever."
~Author Unknown
I truly cherish the time I get to spend with my grandmothers.
They've lived a lifetime of trials and tribulations mixed with joy and laughter, the stories they can tell...
They've known a simpler life than we live today, they've seen our world change from decade to decade since the 1920's.
I'm sure at times they wonder how things ever got so complicated...I wonder that myself.
All of my husband's grandparents have passed away, and both of my grandfathers have passed away as well.
These two amazing women are the Matriarchs of our family.
They're all we have left to treasure from an era that is drawing to a close.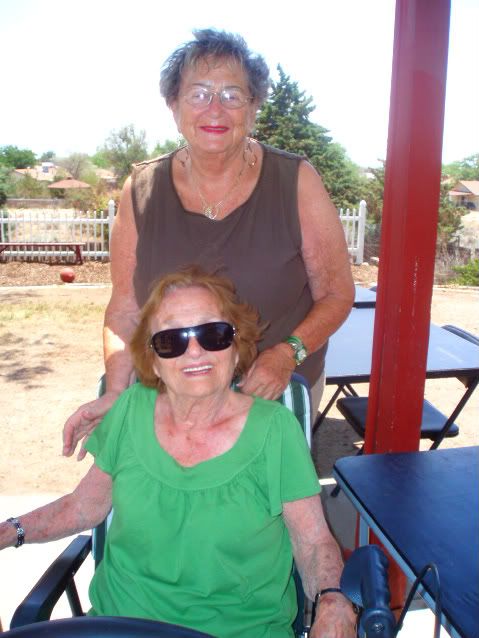 I could fill up pages upon pages with memories of time spent by their side.
They never ran out of hugs, or my favorite meals, or sweet treats...
And they never hesitated to tell me off if I wasn't doing something right.
It's been 15 years since both of my grandmothers have been in New Mexico at the same time. And so, it was an honor for me to have the opportunity to cook a meal for both of them. I know how much they both love eggplant, must be where I get it from :)
Grandmas, this is for you...
When picking out a good eggplant from your favorite produce area, I've been told to choose one that has a shiny skin with a green top, and that has worked very well for me. So to make my version of Eggplant Rollatini, I begin by cutting the Eggplant lengthwise into appx 1/8" - 1/4" slices. I sprinkle sea salt to both sides and lay flat for at least 20 minutes to let it sweat out the bitterness. Then, I rinse the slices and pat them dry.
Next, I used 2 tablespoons of extra virgin olive oil for each batch of slices in my grilling pan and grilled the slices appx 4-5 minutes on each side, just enough for it to become pliable and leave those beautiful grill marks.
Meanwhile, in a medium sized bowl, I combined 1 small tub of ricotta cheese, appx 4 tablespoons of grated smoked mozzarella, 3 slices of proscuitto that have been sliced and chopped into little bits, 1 clove of minced garlic, a pinch of sea salt and freshly ground black pepper, and a handful of fresh basil that I chiffoned to make the "filling mixture." That smoked mozzarella really gives it that extra layer of flavor. If you're having a hard time grating the mozzarella, you can always let it sit in the freezer for 15 minutes and that should help make it easier to grate.
When the slices have been grilled to perfection, I laid them on a flat surface, and used a heaping tablespoon of my "filling mixture" and then rolled them up.
Next, I set them in a baking dish an inch or two apart.
Then, I covered them in marinara sauce and freshly grated parmiggano reggiano. My signature "go to" marinara sauce is very simple. I use 1 large 28 oz. can of crushed tomatoes, 1/4 cup of extra virgin olive oil, 2-3 minced garlic cloves, appx 2 tablespoons of fresh basil chiffoned and chopped again, 1/4 teaspoon of fresh cracked black pepper, and 1/2 teaspoon of chile pequin (crushed red pepper flakes). I let that cook together on low heat for at least 20 minutes or so to let the flavors meld together. It's really that simple. I make a variety of different marinara sauces, but this is the one I turn to most often. The chile pequin gives it just a little spicy kick.
I baked it in the oven @ 375 for appx 15 minutes.
I served this with a side of cheese tortellini with pesto sauce and a slice of garlic toast.
I used 3 cheese tortellini that I purchased from Trader Joe's, and I make my pesto like this:
Combine 2 cups of fresh basil leaves, 2 garlic cloves, 1/4 cup of toasted pine nuts (pignoli, pinon), 1/3 cup of extra virgin olive oil, a pinch of sea salt, and a pinch of freshly cracked black pepper in a blender. Blend all the ingredients until mixed well and voila! I like to mix in 1/2 cup of shredded parmiggano reggiano after the pesto is blended for an extra layer of flavor.
Go on, make this for someone you love...
Mangia!