"There shall be eternal summer in the grateful heart."
I'm feeling a little lethargic this morning... guess that's to be expected when my 1 year old is cracking his 2nd molar, my 3 year old's stomach virus is erupting like Mount St. Helens., and baby #3 is shadowboxing in the womb *my bladder clearly the punching bag*
But the day is already looking up...the coffee is ready, an intoxicating aroma of cinnamon roll fabulousness is filling the air, and sleep deprivation aside, this heart is grateful.
Grateful for the little moments.
Moments that feel vibrant and invigorating to be
alive.
The moments that make you breathe life in...deeply. The moments that make your heart swell, the moments that make you marvel, that allow you to wonder, that bring your soul to rest. For moments that make you laugh til it hurts, that make you weep with joy, that make your spirit dance.
Grateful for snuggles with chubby cheeked children, for intimate meals and late night fellowship with friends. For celebrations of life, and love. For embraces with the ones you cherish. For lover's conversations that never run dry.
For weekend getaways with no agenda and
plenty of fresh thoughts to ponder unhindered by time. For long walks and quiet moments of solitude that allow the soul to breathe and indulge in some necessary introspection. Moments that awaken your inner man...passionately.
Recalling just how satiable the simple pleasures truly are.
I first saw this recipe prepared a little over a year ago, and have been meaning to make it ever since. This is the second of three dishes I was able to make and serve to both of my Grandmothers and it certainly lived up to my expectations.
The sauce provides the perfect alternative to a heavy cream sauce, but gives all of the luxury and richness of one. The sweetness of the corn tickle the taste buds and make this the perfect summer pasta to share with the company of kindred spirits.
Invite someone over. Make them this meal. Eat outside. Engage in meaningful conversation. Create memories. Savor every moment.
Mangia!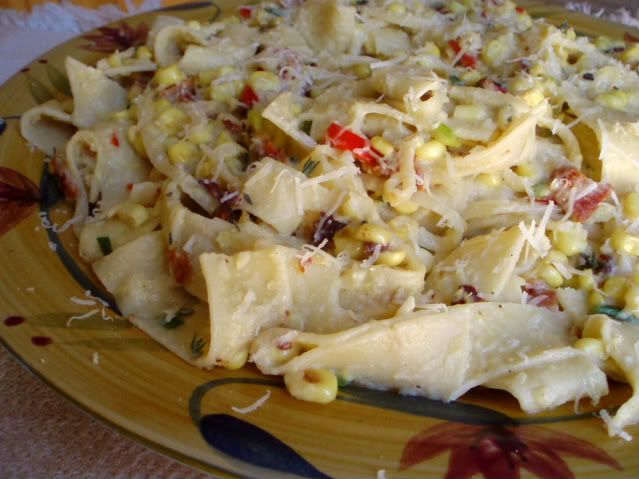 Fettuccine with Sweet Corn & Fresh Dill
(recipe courtesy of Rachael Ray)
Ingredients:
8 ears of corn, peeled

About 1 1/2 cups chicken stock

Salt

1 pound fettuccini, tagliatelle

or

egg tagliatelle (I used 1/2 Pappardelle pasta and 1/2 fettuccine)

1 tablespoon EVOO – Extra Virgin Olive Oil

6 slices smoky bacon, chopped

1 bunch sweet green Vidalia onions thinly sliced

or

3 medium leeks, trimmed and thinly sliced whites and greens, washed and dried

3 to 4 cloves garlic, finely chopped

1 small red chile pepper, seeded and finely chopped

7 to 8 stems of fresh thyme, leaves finely chopped, a couple of tablespoons

2 tablespoons butter, cut into small pieces

About 1/4 cup dill, a generous handful, finely chopped

Freshly grated parmesan

or

Parmigiano-Reggiano cheese
Directions:
1)Place a small bowl in a larger bowl inverted. Balance the ears of corn on the bottom of the small bowl, then scrape the kernels off which will be captured in the large bowl. (I simply used the flat surface of a cutting board for this procedure).
2) Puree half of the corn in the food processor or blender with stock.
3) Bring a large pot of water to a boil for the pasta, salt water and cook to al dente.
4) Meanwhile, heat EVOO, a turn of the pan, in a large skillet over medium to medium-high heat. Add the bacon and cook to crisp, drain and reserve the bacon and pour off all but about 2 Tablespoons of drippings. Return pan to heat and add whole corn kernels and season with a black pepper and just a bit of salt. Cook corn until it starts to lightly brown at edges, about 5-6 minutes, then add in onions and garlic, chili pepper and thyme and cook together a couple of minutes more. Stir in corn puree and heat through. Then stir in butter and dill. If sauce is too thick, add a ladle of starchy water to pan just before draining the pasta. Add pasta and sace and toss vigorously to coat evenly for at least 1 minute. Adjust seasoning and serve with freshly grated cheese on top.