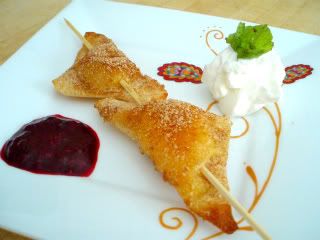 "
In everyone's life, at some time, our inner fire goes out.
It is then burst into flame by an encounter with another human being.
We should all be thankful for those people who rekindle the inner spirit."
~ Albert Schweitzer
I've been "off the grid" to some extent. Not entirely. But certainly in my corner of the blogosphere. Forgive the time-conscious overtones, but life truly has been spinning at the speed of light these days and my soul has been a little weary from the bustling pace, yet continually thankful at the same time to be enjoying a life so full.
The countdown to baby #3's arrival is in fully swing *31 weeks down, 9 (or less) to go (preferably less!!!)* and there is a palpable eustress floating in the air...a glint of excitement in my eyes one moment, followed by a glazed stupor the next. There's no doubt I'm slowing down even amidst the parts of my life that never slow down. I'm not really feeling the urge to nest, rather I find myself fighting the overwhelming desire to hibernate. But as I chuckle to myself, acknowledging the vain fantasy, I tarry... knowing that the time will soon be at hand to usher this new life into the world and begin yet another chapter in our riveting adventure.
As the hum of the dishwasher crescendos, I'm thankful to be a soul at rest tonight.
Thankful for friends who speak life and refreshment into my spirit.
For encouraging emails.
And girlfriend lunches.
Definitely girlfriend lunches.
With lots of tasty nibbles.
And cinnamon sugar dusted mango wontons with mixed berry sauce & almond whipped cream.
The menu:
Chicken Salad Croissants
Broccoli Mushroom & 3 Cheese Quiche
Italian Style Pasta Salad with Salami, Peas, Carrot Slivers, Red Bell Pepper, and Snazzy Vinaigrette
Spinach Fontina & Manchego Puff Pastry Pinwheels
Tortilla Chips w/Cowboy Caviar
and Cinnamon Sugar Dusted Mango Wontons with Mixed Berry Sauce & Almond Whipped Cream
The recipes:
Thank you Venessa for bringing the delicious Chicken Salad Croissants :)
Due to time constraints I used lots of short cuts to throw together a simple but tasty menu starting with a frozen pie crust to make the Broccoli Mushroom & 3 Cheese Quiche. I began by chopping a handful of fresh broccoli, destemming and chopping a handful of cremini mushrooms and then sauteing them in olive oil, garlic, salt & pepper. I beat 4 eggs in a medium bowl with 1 cup of 1/2 & 1/2 cream, then added the broccoli mixture to the egg mixture and 1/3 cup each of shredded Manchego, Fontina and Sharp Cheddar Cheese and then poured the entire mixture into the pie shell. I baked at 375 for 50-60 minutes or until a toothpick comes out clean.
For the Italian Style Pasta Salad I simply boiled two handfuls of mini farfalle in salted water, drained and rinsed, then tossed with diced Salami, a handful of Peas, a handful of Carrot Slivers, a diced mini Red Bell Pepper, and mixed with a Snazzy Vinaigrette I had on hand - topped with freshly grated parmiggano reggiano and cracked black pepper.
For the Spinach Fontina & Manchego Puff Pastry Pinwheels I used a recipe that was given to me in a recipe exchange by an anonymous person, but have noticed the recipe on the back of some puff pastry packages as well - I simply rolled out one puff pastry sheet on a lightly floured surface, brushed lightly with an eggwash, topped with shredded Manchego, Fontina and Parmiggano Reggiano, a handful of diced green onion, a sprinkle of garlic powder & freshly ground black pepper, and appx. 8-10 oz. of defrosted (previously frozen) spinach that has had all of the liquid extracted as much as possible (Since I don't have a cheese cloth, I squeezed the liquid out by putting the spinach in a few heavy duty paper towels and twisting & squeezing in the sink until all the liquid was gone). I sprinkled the spinach over the cheese, then I rolled the puff pastry up like a jelly roll, cut into slices (the spinach and cheeses spiraled so beautlfully) and arranged on a greased baking sheet. I baked it at 375 for appx. 15-20 minutes.
Tortilla Chips w/Cowboy Caviar - for the recipe click

here
and lastly for my Cinnamon Sugar Dusted Mango Wontons with Mixed Berry Sauce & Almond Whipped Cream - I had one package of wonton wrappers, but since there was just two of us, I used only two sheets, cut each sheet into 4 squares, dabbed a smidge of softened cream cheese in the center of each square along with a teaspoon of pureed mangos. I brushed an eggwash on the sides of each square and folded into a triangle. I deep fried them for just about 30 seconds or so on each side, tossed them in cinnamon & sugar, and served with a mixed berry sauce (I simply pureed blackberries, raspberries and blueberries) and almond whipped cream (Using my electric beater in a medium bowl I beat 1/4 cup of powdered sugar with 1 cup of heavy cream and 1 teaspoon of almond extract).
A complete success!