Sweet Bellas, a different kind of inspiration is behind this post today - and although it may seem silly - there is a joy spilling over that has me shouting from the rooftops,
"Thank God Almighty, the green chile is HERE!"
*a chorus of hallelujahs rises in the air*
We have been on tip toe waiting for this belated beloved crop to make its appearance, and alas, we must wait no longer. The fix is in! Yes, we New Mexicans are very zealous about our chile, and this is most certainly a magical time of year - an intoxicating aroma fills the streets as we wait in lines for our green chile to be roasted to perfection. We welcome the burning sensation in our fingertips as we peel and chop and dice our little hearts out to package ever so neatly our newly acquired high grade stash. From Hatch to Chimayo, and everywhere in between, one can purchase by the pound, the bushel, or the sack.
As for me, I opt to buy not one, but two 30 lb sacks. Sound like a lot of chile? Well, not in my house. We have to dedicate an entire shelf, or two, in our separate stand up freezer in the garage to house this delicacy. Because you see, the crop only comes in once a year, and this has to last me alllll yearrrrr longgggg.
Without a doubt, I have fallen head over heels in love with New Mexican chile from the very first day it graced my lips, and have been completely obsessed with experimenting green chile fusion in just about every cuisine you can think of, thus inspiring my work in progress fusion cookbook.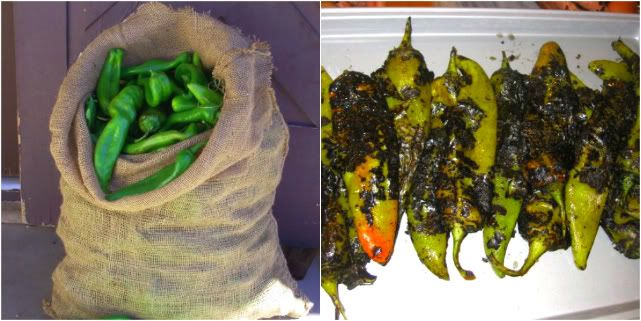 Now I confess I have made the mistake of buying just one measly 30 lb. sack before, only to find the stash ran dry mid summer and I was forced to borrow from family members who, with horrified looks on their faces at the mere thought of facing such a dilemma, graciously obliged. Ohhhh I suppose I could buy something from the freezer section of my local grocery store to hold me over, and I suppose I could manage, but TRUST ME, hear my conviction, IT IS NOT THE SAME!
So, what can one do if you don't live in the Soul of the Southwest?? How can one get their hands on authentic chile from Hatch, NM?? Fret no longer sweet bellas, you can visit one of these lovely sites, and you can get it packed and shipped directly to your front doorstep - a worthy venture indeed...
http://www.nmcchile.com or http://www.hatch-chile.com/ or http://www.nmchili.com/
And now, I leave you with a poem I penned with sentiments from the very bottom of my foodie heart , titled "An Ode To Green Chile"
one of my fusion recipes, GREEN CHILE CHEESE POTATO LATKES.
oh green chile i love you so
i wait all year for you to grow
and dream of all the things i'll do
while I purchase a 30 lb. sack or two
and stuff you with cheese
and in brews (hey, they do that here!)
and with breakfast in bed
oh green chile, how i love you so
so much more than you'll ever know
my enchiladas would be naked
my stuffed sopapillas would be bland
my beans 'n' papas would be lonely
and that is more torture than a New Mexican can stand
oh green chile, i do love you so
and wait all year for you to grow
i dream of all the things i'll do
YOU COMPLETE ME green chile - yes. you. do.
You don't have to wait til Channukah to enjoy this delicious spin on an old classic. Latkes are a great substitute for traditional potato dishes for any meal any time of the year. I like to serve mine as a side dish to steak, chicken or fish - and - with a scrambled egg between two english muffins in the morning...sooooo gooooood.
Green Chile Cheese Potato Latkes
Ingredients:
2 Cups Peeled Shredded Potatoes (Idaho Baking Potatoes are best)
3 Tbsp Shredded Onion (white or yellow)
2/3 Cup diced green chile (preferably Hatch NM Green Chile)
2/3 Cup Sharp Cheddar Cheese
1/2 Cup Oil (Peanut Oil is best, otherwise Canola will work
Directions:
If you don't own a cheesecloth, use a very thin dish towel)
2. In a medium bowl stir the potatoes, onion, eggs, flour and salt together.
3. Add the green chile and cheese and gently stir to combine.
4. In a large heavy-bottomed skillet over medium-high heat, heat the oil until hot.
Place large spoonfuls of the potato mixture into the hot oil, pressing down on them to form 1/4 to 1/2 inch thick patties.
Brown on one side, turn and brown on the other.
Let drain on paper towels.
Serve immediately with a side of sour cream - mangia!
*To reheat, it is best NOT to microwave, rather, place the latkes in a skillet without oil over medium heat and warm up each side and serve, or, one can even warm up in the ove
n.