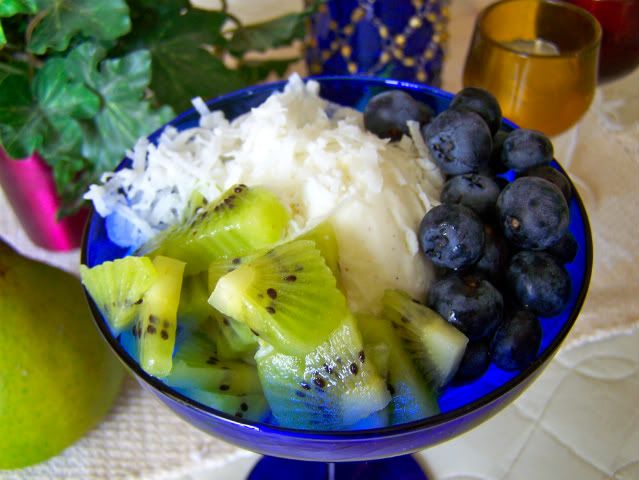 "I don't cry over spilt milk,
but a fallen scoop of ice cream is enough to ruin my whole day."
~Terri Guillemets
I spent a decade living in a small town
nestled in the Sangre de Cristo Mountains.
Best known for it's stellar skiing, fine arts, exceptional cuisine,
and the kind of breathtaking scenery that allowed one to indulge in
every outdoor activity you can imagine.
But one thing Taos didn't have
was an "ice cream man."
The most I'd seen driving around there was an old school bus
that had morphed into a Grateful Dead mural on wheels.
Did you have an "ice cream man" in your old neighborhood?
When I was growing up, we had an ice cream man,
and where I lived, he ruled the streets.
He stocked the best of the best...
Not only a full display of good humor products,
but tons of candy & all the crazy practical joke toys that
kids loved and parents hated.
Like those snappers you'd throw on the ground that sounded like a firecracker.
Cherry bombs. Stink bombs. The works. Even parachute men!
He had his own special song that played,
and his name was proudly displayed above the windshield...
"FELIX"
When all the kids on the block heard his tune,
we would run into our houses like Speedy Gonzales
to raid our piggy banks or beg our parents for spare change
so we could make our score.
Of course, we had bionic hearing back then,
we could hear his song playing from blocks away.
Looking back, I wonder if he had subliminal messages in his music...
It would literally put us in a trance,
as if he were The Pied Piper luring us in.
All the neighborhood kids would line up
for italian ices, red white & blue bomb pops,
choclate eclair & strawberry shortcake ice cream
.
We'd stuff root beer bottle caps, sweet tarts,
jolly rancher sticks, fun dip & & candy rings
in our pockets to fuel us for
the next round of fun in the streets.
Ahhhh, yes, those were the days....
when we were wild eyed and carefree...
sitting on the curb with sticky fingers & cherry red stains on our lips
from the popsicles we'd just consumed...
The days when we'd ride our bikes alll dayyy looong.
The days when we'd build go carts
and act out scenes from X-Men comics in the streets...
Torturing locusts by day and catching fireflys by night.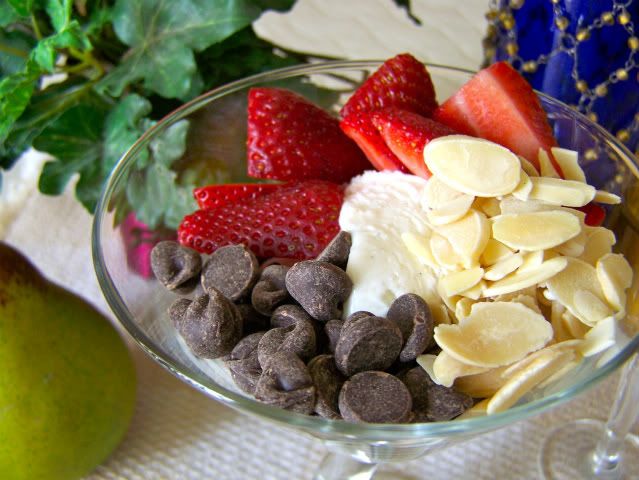 Nowadays, I like to fanc-i-fy my ice cream whenever possible.
I like to scoop ice cream in liquor glasses and chop up fresh ingredients.
Something about it makes it feel...special...indulgent.
Pictured above is good ol' fashioned vanilla ice cream
served in a cobalt blue margarita glass and topped with blueberries, kiwi & coconut.
The other is served in an eclectic clear martini glass with strawberries, chocolate, and sliced almonds.
If you could choose any toppings you wanted,
how would you dress up your ice cream?
I'm thinking it's time for an ice cream party...
yet another great way to draw in the youth
and stir up some meaningful conversation :)